Applications are being accepted for Summer School at Instituto de Sistemas Complejos de Valparaíso
Friday, 12 October, 2012 |
NEWS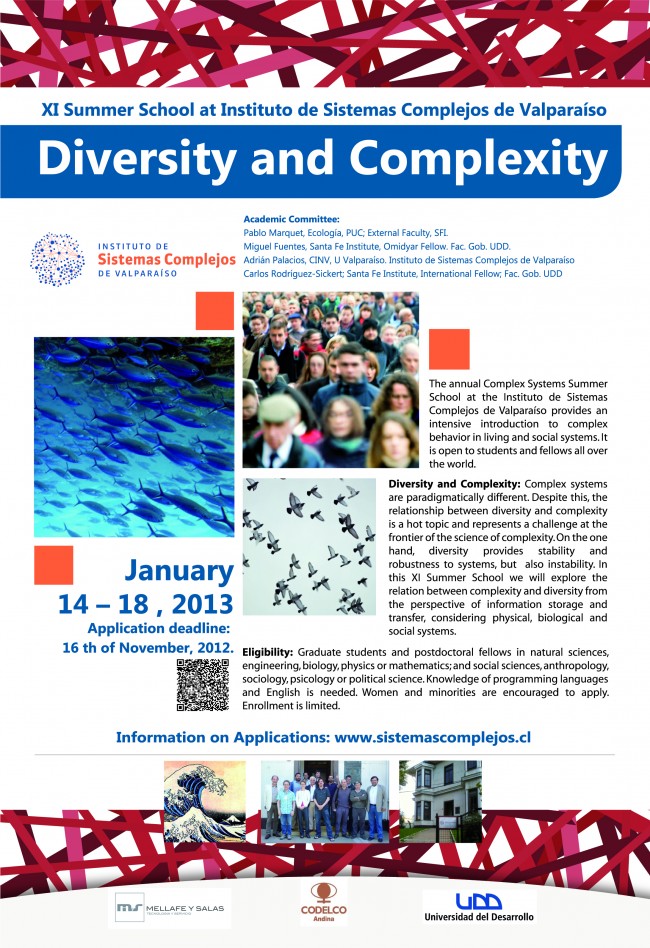 The Instituto de Sistemas Complejos de Valparaíso is accepting applications for the annual Complex Systems Summer School that will take place during the 14th and 18th of January 2013.
This program will explore the relation between complexity and diversity from the perspective of information storage and transfer, considering physical, biological and social systems.
Online applications will be accepted until November 16. For further information about the application process visit  www.sistemascomplejos.cl
---
El Instituto de Sistemas Complejos de Valparaíso abrió las postulaciones para la XI versión de la Escuela de Verano en Sistemas Complejos que se llevará a cabo entre el 14 y el 18 de enero de 2013.
En esta oportunidad se explorará la relación entre la complejidad y la diversidad desde la perspectiva del almacenamiento y transferencia de la información, considerando sistemas físicos, biológicos y sociales.
Este evento académico que ofrece una introducción intensiva al comportamiento complejo en sistemas vivos y sociales, finaliza su etapa de postulación en línea el 16 de noviembre.
Para más información del proceso de postulación: www.sistemascomplejos.cl